This 'Tumble Tower' project was simply for me and my family/friends.. But since I made this set,  I have been asked to make more…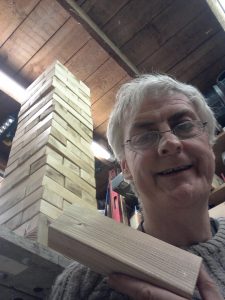 I once saw a picture of this game, and thought that is so simple yet effective, Adults can enjoy this as much as the kids.   I bought some 3″ x 2″ CLS (Canadian Lumber Standard) construction timber. It has the corners eased (nicely rounded) I ran all lengths through my thicknesser ensuring each piece was the exact same thickness (guaranteeing superb game play).
I measured the width, multiplied by three, and cut 69 pieces of this length. selecting a 6mm 'round over' router bit  I rounded ALL the sharp edges.  Then sanded each piece on all sides with fine grit sandpaper.  Then hand polished with a beeswax/carnauba wax composite… twice.   Better finished than shop bought.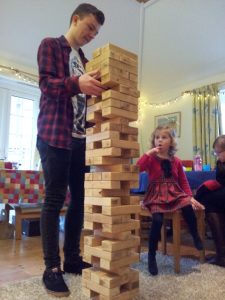 We really have had loads of fun with this game.. and there will be more to come.   And occasionally we let the kids play too.