This one is for me – To help keep my sanity.
Storing, and  then moving tools and materials to a customer site is simply part of the job. Making it smoother, and having things to hand makes the job quicker with less hassle.
I had already discarded the cases my drills came in, as less than half of the space the case actually houses the drill, batteries, and charger,  and extra batteries weren't catered for, and simply had to be jammed in as the lid was shut.
I opted to carry them for a time in a single tool bag, this saved loads of space, and worked ok. The issues I had were the  charger cables getting tangled or cut, and I was unsure of which batteries still had charge. I also had to pull all the gear out to find smaller items such as drill or screwdriver bits. The bag also didn't fully close due to having too much kit in there.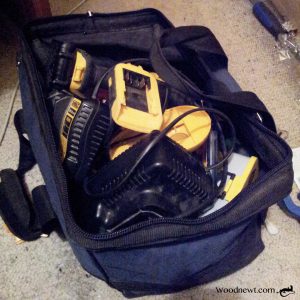 I needed a simple, functional, one box solution. My design incorporated a central storage area for common drill and screwdriver bits that I use regularly, wood drills, HSS bits and screwdriver bits and extensions.
Having several batteries, i wanted to stow these so I could quickly snap in a charged battery for use. I flip the batteries upside down in the box when dead. On longer jobs I may need to plug in the charging units to keep the work moving.  I designed the lid allowing me to secure the chargers for quick and easy access on the job. the plugs and cables are neatly stowed in the box.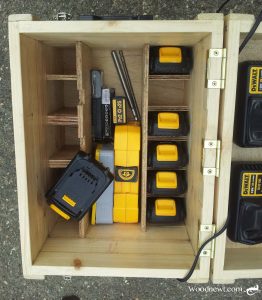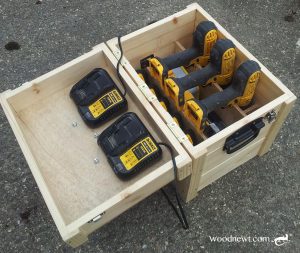 The drills have simple holsters for quick use access.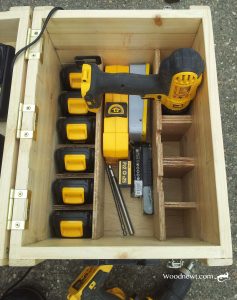 The box is made from a length of tongue and groove floorboard. The base is 6mm plywood rebated in. The lid is 9mm plywood glued and screwed.
I bought three cranked hinges as the type loads they would be put under suited my needs better. Two simple toggle latches keep the lid secure, a  flight case handle fixed to the lid gets the box from A to B, and two chest handles assist in stowing the case.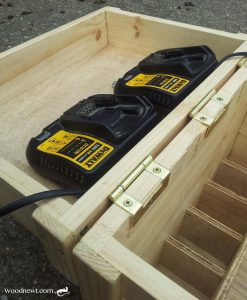 Having this kit in just one box with everything easily to hand has saved some frustrations when out on jobs. Sometimes you just need a bespoke solution!