The brick built barbecue outlined below, is the third element in a garden makeover. It is built with reclaimed bricks (about 120yrs old).  The following image shows the BBQ suppliers suggested method of laying bricks tangentially to support the coals tray. We all felt this was ugly..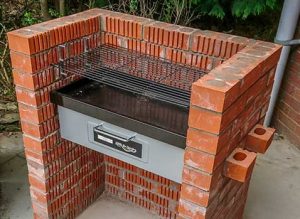 I also opted to use my own stainless steel supports for the grill rack and coals tray. This negated the use of the flimsy and awkward grill supports coming supplied with the BBQ.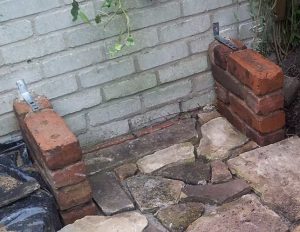 For strength, as we were not building an integral back wall with the BBQ, the brick supports on each side are built with frame ties every three brick courses to secure the BBQ to the back wall. For aesthetics, the top coping stones were cut out to receive brick copings across the back of the BBQ, to give the visual effect of having the back wall.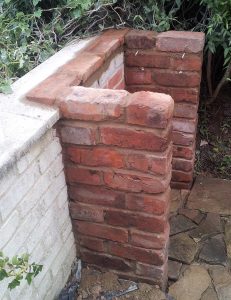 On completion of the build, concrete stain was purchased in three brick colours to stain the the bland and ugly concrete bricks and coping stones to brick and earth tones to tie in with the surroundings.