Despite there being lots of styles and sizes of computer desks available to buy, sometimes what you want or need may not be available. after unsuccessful attempts to buy one, I was commissioned to design and make a desk to replace the one that was tatty and getting unstable. It had an open front for the computer base to sit in and the printer beside, the keyboard drawer no longer functioned. Brian's family wanted to buy him a fathers day gift of a new desk, (it really was needed) after a day trawling the stores, either wrong materials (metal and glass) or wrong size (too big for the space), or simply wrong features, as he wanted doors on the front to stop the dog hairs from his dog brushing by getting into the printer.. which had recently failed due to that problem. I had a chat and also suggested a dedicated shelf for the amplifier, and extend the keyboard drawer for extra space for when needed.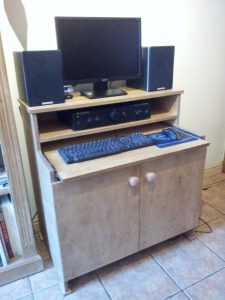 The desk was made from a singe sheet of 4' x 8' 18mm birch plywood. I researched optimum seating positions for workstations and chatted with Brian to get the right solution that worked for him. As he listens to a lot of audio and watches media also, I suggested lifting the amplifier to a dedicated easy to access shelf.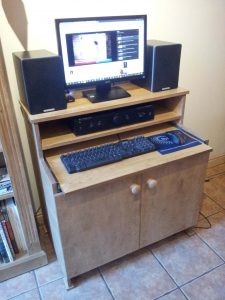 There are different wood tones of features in the kitchen/diner,  a pine bookcase, pine tables and chairs, and beech/light oak kitchen units, I matched the colour to harmonise with all, The desk was stained and then a water based varnish used to seal and protect the desk in the kitchen environment. The keyboard drawer got extra coats due to the wear and tear it will receive.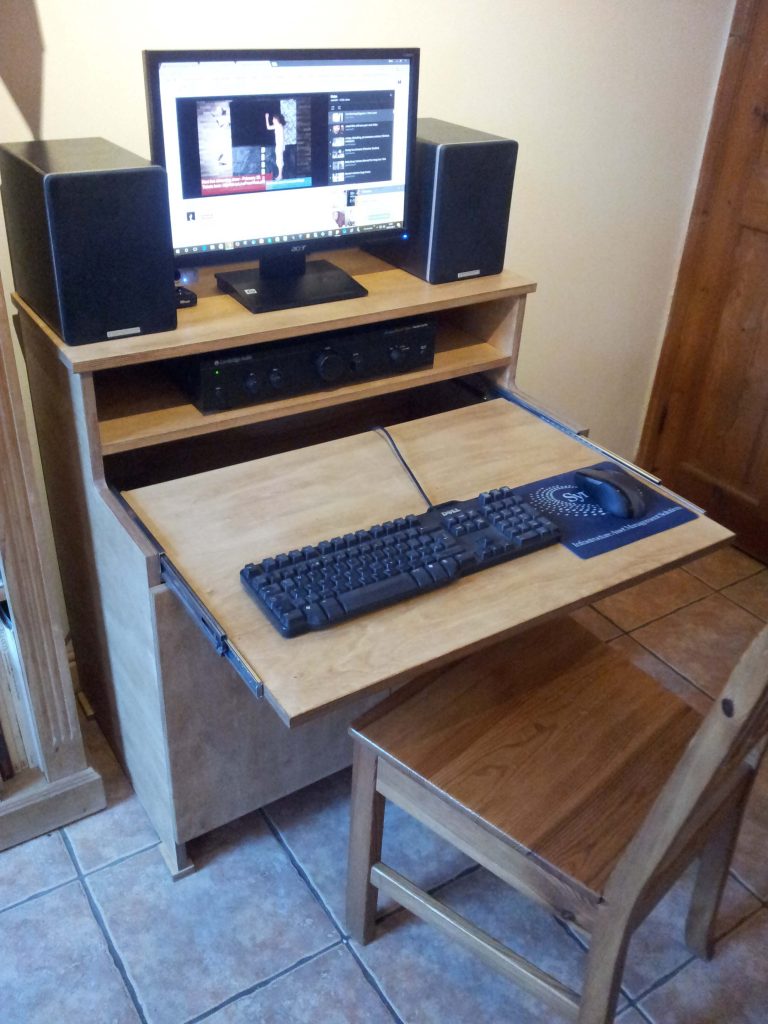 The panel fixings are dowels and pocket hole screws, with the back being made from 6mm plywood screwed on giving added rigidity and to help seal the computer and printer space from dust and dog hairs. The keyboard drawer runs on 450mm full extension bearing glides which can easily take a 18kg load, (a lot more than the one it replaces), the doors are fitted using sprung cabinet hinges as per kitchen units. I fitted a drawer stop/lock giving a really solid feel to the desk/keyboard top when pulled out.  I like how this project turned out.